Bommarito Nationwide Warranty
 

Exclusively at Bommarito Ford Superstore in St. Louis, Missouri gives you America's Best Backed Ford Cars, Trucks, SUV's and Vans with our 10 YEAR/ 200,000 MILE NATIONWIDE WARRANTY with every brand new Ford vehicle purchase.

Check out the Best Backed Ford Vehicles Near St. Louis Missouri at Bommarito Ford Superstore where you get a 10 Year / 200,000 Mile Nationwide Warranty with every Brand New Ford vehicle purchased. You may find the same car, same color and with the same options at another dealership but you will not find one with the same Advantage Value with this Nationwide Warranty, 2 Years Complimentary Maintenance, and so much more that the other dealers in Missouri and Illinois just dont include at NO CHARGE!  When you purchase one of our Bommarito Ford vehicles, backed with our new 10 Year/200,000 Mile Nationwide Warranty, at absolutely no charge, you are once again getting Missouri's and Illinois best car deal, guaranteed.


Frequently Asked Questions:

Q:  Which vehicles come with this Nationwide Warranty?

A:  This warranty applies to all brand new Ford vehicles purchase at Bommarito Ford Superstore exclusively.

Q: How much extra will this cost me?

A:  That's the best part.....It's included!  Our 10 Year/200,000 mile nationwide powertrain warranty is included with the purchase of a brand new Ford car, SUV, truck, or van.

Q:  Can I use this Powertrain Warranty at any Ford Dealership or just where I purchased my vehicle?

A:  You can use this warranty nationwide at any Ford Dealership.  Of course, we would like to see you back here at Bommarito Ford but understand people relocate, move, an issue may arise while traveling so you are covered.

Q:  What if all of my service updates and maintenance were not completed at Bommarito Ford Superstore?  Am I still covered?

A:  Yes you are.  Our award winning service department and Ford certified technicians will certainly exceed your expectations, but you are not required to come here every time.  We would like to take care of all of your maintenance needs with our service department and QuickLane that is open Monday - Saturday but you can have your scheduled maintenance done anywhere.

Q:  Does it apply on vehicles previously purchased?

A:  The Bommarito 10 Year/200,000 Nationwide Powertrain Warranty is only valid on new vehicle purchases exclusively at Bommarito Superstores purchased after February 1st,  2015.

Q:  Is there any extra maintenance required to maintain the 10 Year/200,000 mile powertrain warranty?

A:  No, there is no extra maintenance required.  Simply follow the manufacturers recommended maintenance as referred to in the owner's manual.

Q:  Can I still purchase an extended warranty to cover my new car bumper to bumper?

A:  Yes, we still offer bumper to bumper coverage if you would like to enhance your new warranty.

Q:  What does the 10 Year/200,000 Mile Nationwide Powertrain Warranty cover?

A:  The following is covered in the event of a mechanical breakdown or failure, subject to terms and conditions of this limited warranty:
Engine:  All internal, lubricated parts, Cylinder Block; Cylinder head(s); Harmonic Balancer, Timing Chain, Timing belt, Balance shaft belt, Gears, Pulleys, Guides and Tensioners*; Oil Pump,; intake and Exhaust Manifold; Diesel Engine Vacuum Pump; Engine Mounts, the following parts are covered only if damage by the FAILURE of an internal, lubricated part: Cylinder Barrels, Timing Chain Cover, Valve Covers, Oil Pan and Rotor Housing.

Transmission / Transfer Case: 

Manual Transmission / Transfer Case: All internal, lubricated parts. Flywheel; Transmission Mounts; Clutch Master and Slave Cylinder. The following parts are only covered if damaged by the FAILURE of an internal, lubricated part: Transmission Case, Oil Pan and Transfer Case.

Automatic Transmission / Transfer Case: All internal, lubricated parts. Flex Plate; Vacuum Modulator; Transmission Mounts, Torque Converter if internally damaged. The following parts are covered only if damage by the FAILURE of an internal, lubricated part: Transmission Case, Oil Pan and Transfer Case.

Drive Axle (Front/Rear):  All internal, lubricated parts.  Drive Shafts; Axle Bearings; Drive Axles, Stub Axles, Tripod Joints; Universal Joints; Constant Velocity Joints and Boots; Locking Hub Assembly.  Drive Axle Housing if damaged due to the FAILURE of an internal, lubricated part.

Seals and Gaskets:  Seals and Gaskets on all covered parts.

Taxes and Fluids:  State and local taxes, where applicable, and fluids as required as part of a covered repair.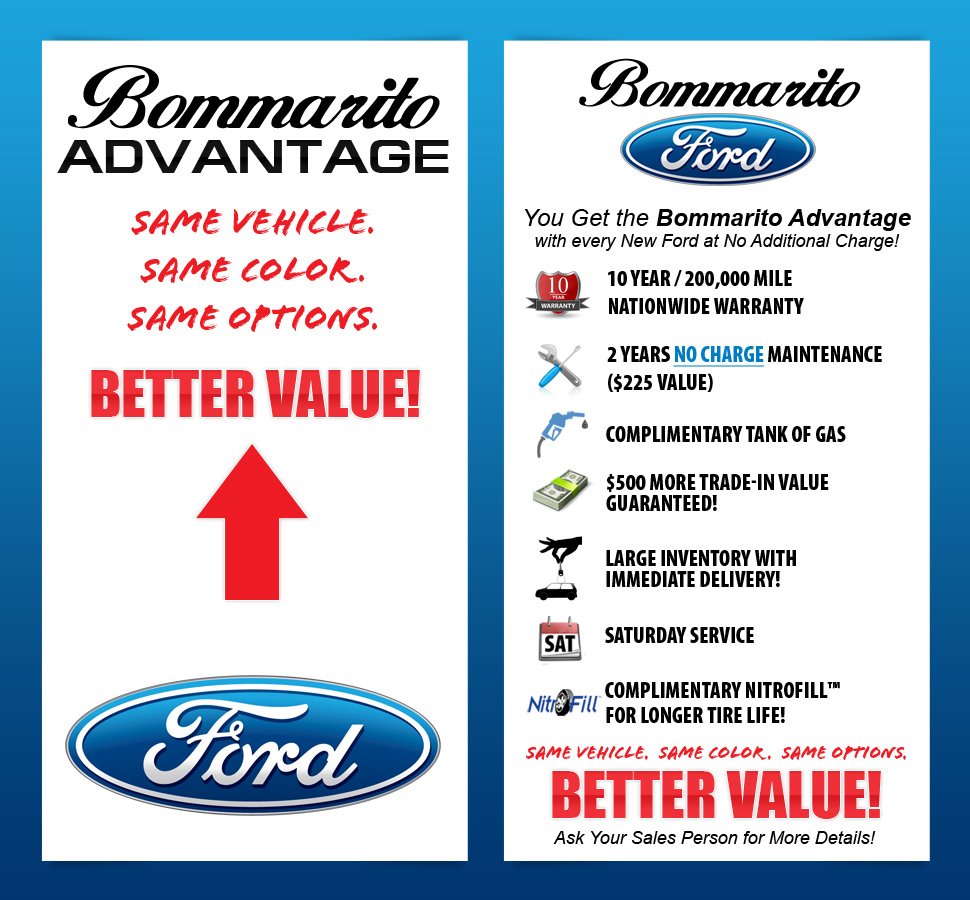 Bommarito Ford Advantage (Freebies and Benefits)
Here at Bommarito Ford Superstore in St Louis we know you have several choices of where to purchase a new vehicle. As part of our way of saying Thank You for choosing Bommarito Ford we want to help you take care of your vehicle with our incredible Bommarito Ford Advantage Package which includes the following services to you at no cost when you purchase a brand new Ford from Bommarito Internet Sales Dept:
1. FREE 10 Year / 200,000 Mile Nationwide Warranty
2. FREE Two Year NO CHARGE Maintenance
3. FREE Nitrofill Nitrogen Tire Inflation for longer tire life.
4. Courtesy transportation to and from home or work
5. FREE Service loaner cars available.
6. Express Maintenance Service, including Saturday service hours
7. $100 Customer Referral Program: See your Internet Sales Consultant or Manager for details.
8. Amenities include complimentary Starbucks Coffee, bottled water and snacks, Wireless internet access
9. Most Importantly, we offer a no-pressure environment and operate with quality you expect from a Bommarito Automotive dealership
10. Free pick up service from St. Louis Lambert International Airport flying in to pick up your new vehicle.
11. Military and Union Discounts available. 
12. If we do not have the exact new Ford you are looking for we will get it for you if available
The Bommarito Exclusive 10 Year/200,00 Powertrain Warranty is included with every new Ford purchase and is good at any Ford Dealer Nationwide.  This warranty provides you the peace of mind knowing you have the purchased the Best Backed Ford models.  We would love for you to bring your vehicle to our Bommarito Ford Superstore for all of your maintenance needs but also understand people relocate, move, maybe traveling, etc so this warranty, unlike the competitions, does not require you to do all of the manufacturer schedule maintenance at Bommarito to keep your warranty valid. 
We believe by offering and including this Bommarito Ford Benefits Package it will help give you peace of mind in knowing you chose the right dealership. It doesn't matter if you live in St. Louis, Florissant, Hazelwood, St. Charles, St. Peters, OFallon, Chesterfield, Ellisville, Ballwin, Frontenac, Maryland Heights, Webster Groves, Kirkwood, Mehlville, Oakville, Lemay, Arnold, Fenton, Eureka, Sprinfield, Columbia Missouiri, Belleville, Alton, Edwardsville, Dupo, Monroe, OFallon, Carbondale Illinois or any other city or state, these benefits are available to you to use here at Bommarito Ford. We are only 5 minutes from the St. Louis Lambert Airport.
We have a huge selection of brand new Ford Fusions, Ford Escapes, Ford C-Max, Ford Taurus, Ford Mustang, Ford Edge, Ford Focus, Ford Fiesta, Ford Econoline Vans, Ford F150 pick up trucks, located in St Louis MO just minutes from St Charles, West County, South County and Illinois. 
CLICK HERE to see our New Ford Models 
Coming in from out of town we can help make recommendations for hotels. Make a nice trip out of your visit to Bommarito Ford. Two of the areas finest Casino Resort Hotels located on the river are less than 10 minutes away. The St. Louis Arch is only 25 minutes away as well as the World Famous St. Louis Zoo. Want to catch a game, check our World Champion St. Louis Cardinals, St Louis Rams or St. Louis Blues Hockey. St. Louis is also famous for its BBQ, Italian Restaurants (We created the toasted ravioli) or even get yourself an incredible custard at Ted Drewes on the old Route 66. We are also located across the street to the World Famous Ford "Big Foot" monster truck that is displayed outside.
Our Current Specials