BOMMARITO FORD SUPERSTORE IN ST. LOUIS EARNS PRESTIGIOUS PRESIDENT'S AWARD FROM FORD MOTOR COMPANY.
Bommarito Ford Superstore in St. Louis is among an elite group of Ford dealerships to have earned the President's Award, Ford Motor Company's most prestigious honor.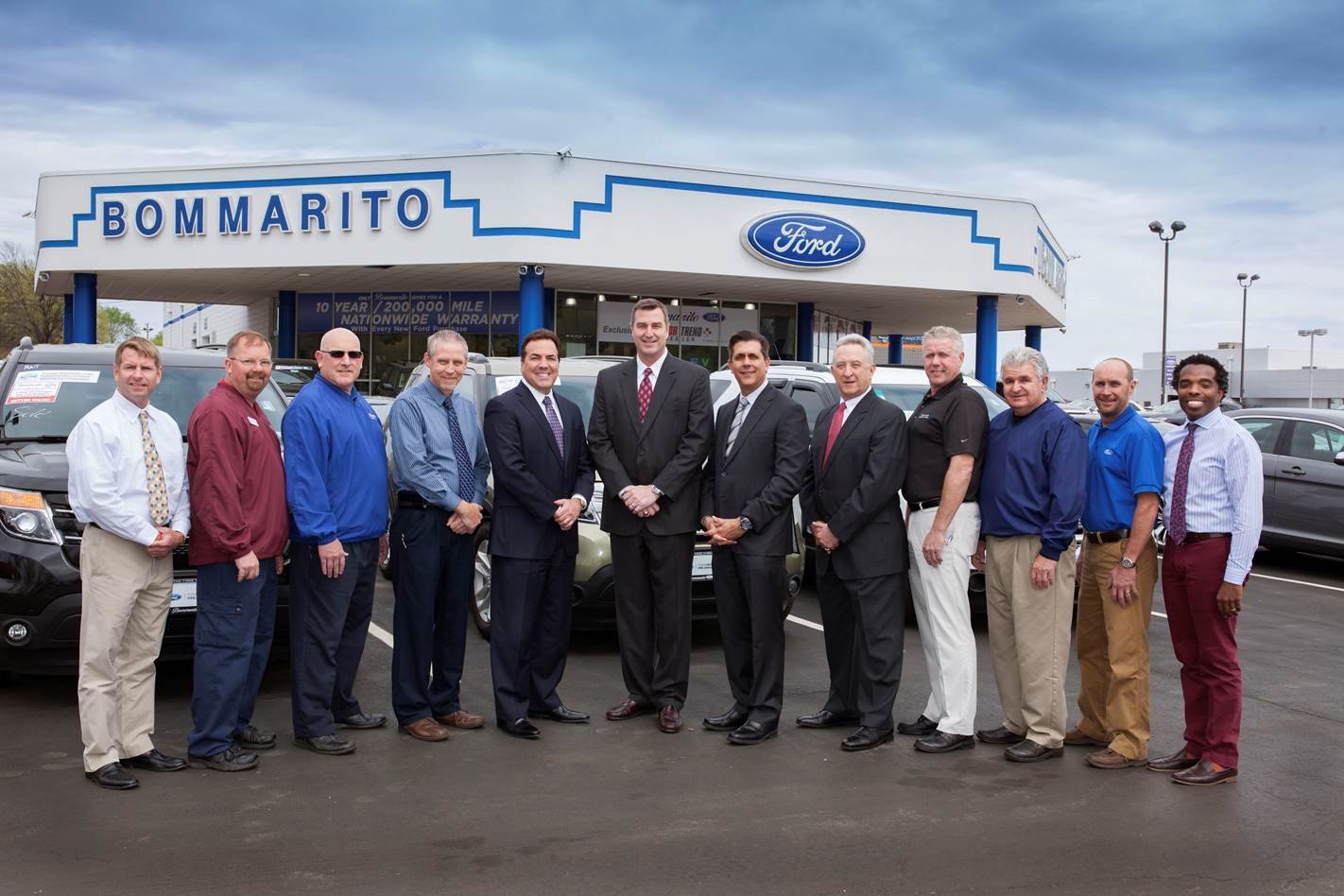 In just four short years, Bommarito Ford, 675 Dunn Road, in Hazelwood, has achieved a pinnacle of success few dealerships attain.
For 2014, Bommarito Ford has earned the President's Award, Ford Motor Company's most prestigious honor. The award salutes top-performing dealerships achieving the highest levels of customer satisfaction in sales and service, employee dedication and operational excellence. Bommarito Ford was the only St. Louis dealer to be honored with the award. "It's the evidence that the Bommarito culture is effective and testimony to what putting the right people in the right place can do," said automotive group president John Bommarito.
Prior to its acquisition by Bommarito Automotive Group in 2011, the Hazelwood Ford store was selling less than 200 cars per year. Since then, the dealership has steadily grown, rising to rank 119th of 3,200 dealers nationally. Last year, Bommarito Ford sold more than 2,500 new and pre-owned vehicles. The key to success?
"Embracing the Bommarito philosophy from the beginning," said Brad Gilbert, general sales manager.
That philosophy - a combination of volume pricing, a large inventory, and a high degree of personalized service, all in a convenient address - invites customers to return for service, parts and future vehicle sales.
 "Our award-winning customer satisfaction scores are a direct result," said Jerry Eickel, vice president and owner. Gilbert, who has been with Bommarito Automotive for 15 years, said every member of the team is empowered to take care of customers and points to examples, including the President's Award, the growing base of repeat clientele and exemplary reviews on DealerRater.com as a "reflection of that commitment" to the customer. That commitment is also the reason Frank Bommarito, CEO, launched an exclusive 10-year/200,000-mile nationwide warranty with every new Ford purchase.
"Frank wanted to provide our customers, who are also our friends and neighbors, with the best-backed Fords in America," Eickel said.
Due to the exceptional growth and future sales expectations established by Ford Motor Company, Eickel said the dealership currently has more than 700 new Fords in stock or on the way.
"Our goal is to provide our customers with an easy shopping and purchasing experience," he said. "We have the largest inventory with volume pricing to ensure our customers find the right car at the right price."
From family rides to trucks for business, Bommarito Ford offers a wide range of light to medium-duty pickups in stock, including Super Duty F-250, F-350 and F-450 with seating for 3-6, and Transit Connect vans perfect for virtually every commercial truck-driving need.
Next year, drivers will be able to shop in an entirely new blue oval environment. A complete renovation of the 1990's-era building, with an anticipated cost of $2.5 million, is slated to begin in August, transforming the retail/service facility into Ford's new brand image. Bommarito described the remodel as an investment.
"It's a reflection of our commitment to the customer experience," he said.
Article written by Beth Wade of the St. Louis Post Dispatch that appeared on April 25, 2015.